Capturing Memories One Smile At A Time!
Looking to make your event unforgettable? Our photo booths are a huge hit and add tons of fun to every event — people love them, no matter what their age! The customized prints also make nice favors and are a great memento. Photo Booth Rentals also make a great gift idea for Weddings, Sweet 16s, Birthdays — any event!
All our booths are Standing Booths; there are no seats provided. This makes it easier to get more people in the pictures and for everyone to move around freely. Our photo booths are tilt-able, which is a plus for persons in wheelchairs and small children. They may be used indoors or outside.
Availability is based on "First-come, First-served," so rent yours today!
PHOTO BOOTH OPTIONS
OPEN: Since it's open on the sides, large groups can squeeze together in front of it and everyone outside the booth gets a kick out of watching the antics.
ENCLOSED: The Best of Both Worlds — Large groups and privacy! (Extra fee.)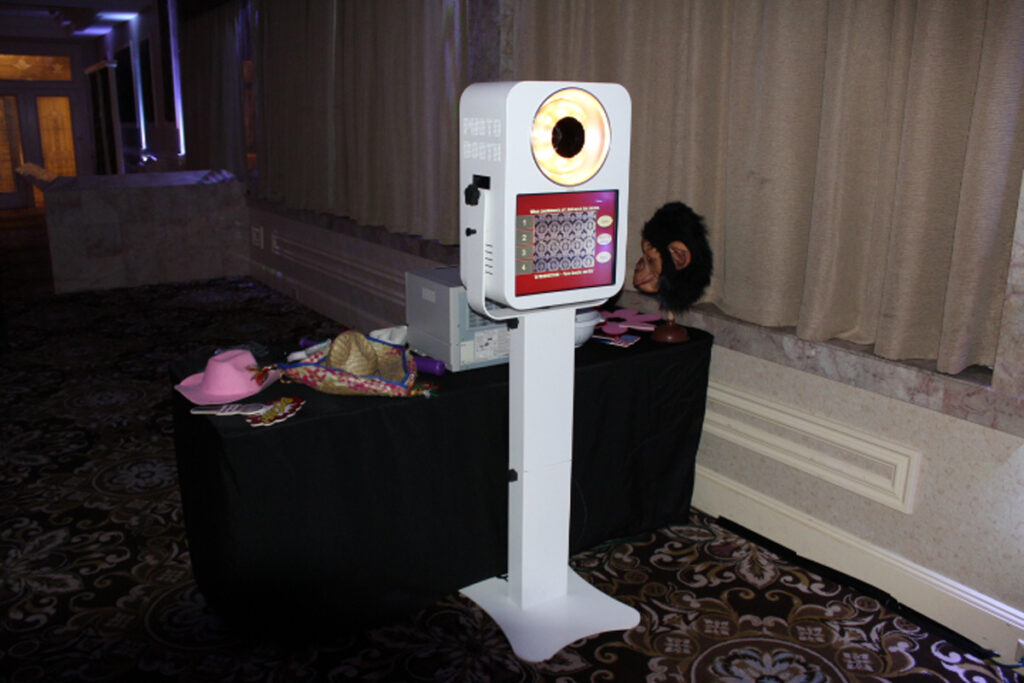 All Photo Booth Rentals Include:
Delivery, set up and removal with an on-site attendant for the duration. Delivery and set up occur within an hour of start time and removal is immediately after end time.
Unlimited sessions with your choice of TWO 2×6″ strips or ONE 4×6″ postcard per session.
Templates designed and customized by you with our online template designer (see Planning page).
Your choice of backdrop (see Planning page for choices).
Basic Props – Household items, hats, signs, etc.
A copy of all prints and individual pictures after your event.
Routine breaks may be needed for paper changes, maintenance, etc.
We can also provide a second photo booth for your Cocktail Hour, at an additional fee.
Additional fees apply if the photo booth needs to be moved after it is already set up.
Photo Booths Start at $600 for Three Hours.
Template examples:
Strips are cut in half by the printer, for a clean, professional finish.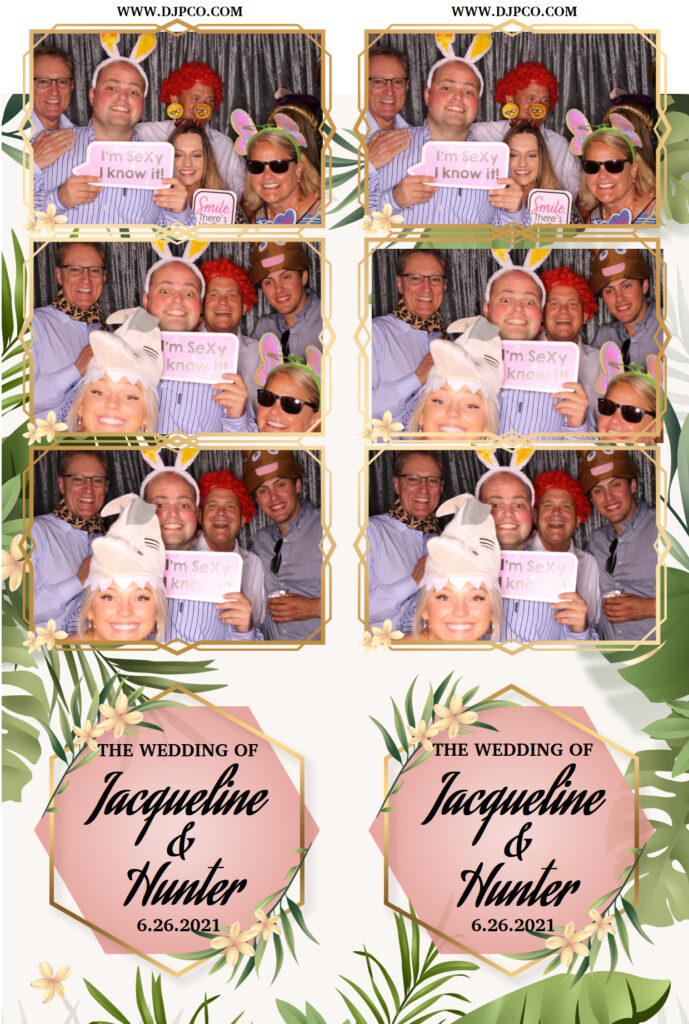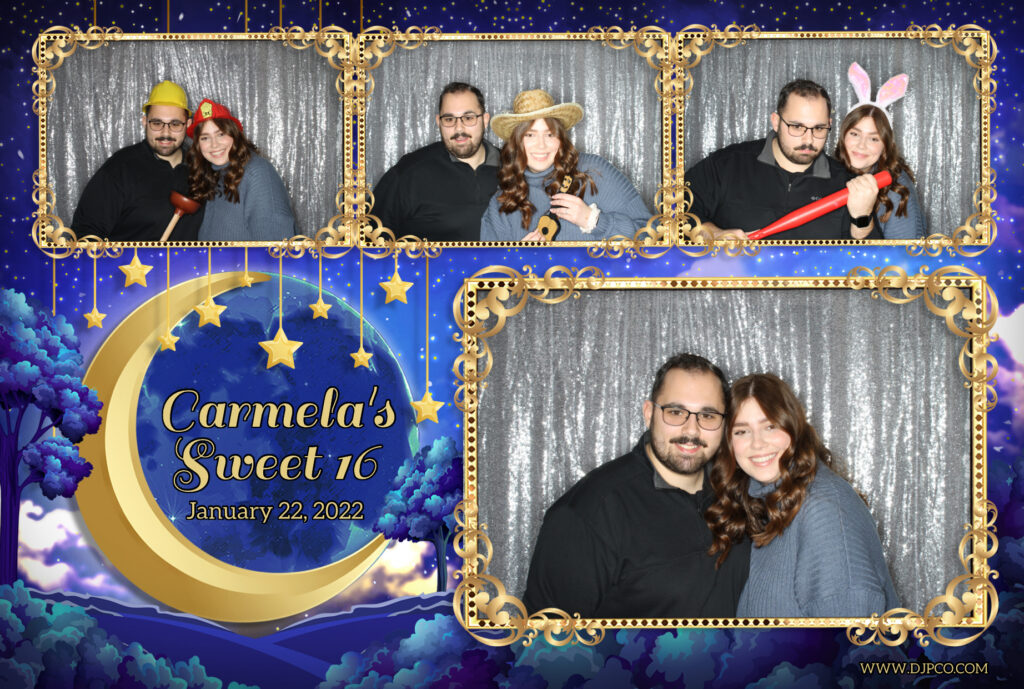 ADD-ONS:
Premium Props Rental – in addition to Basic Props, an assortment of premium hats and other items.
Prints for Everyone – Those who want a copy, get one.
Red Carpet Package – Two sets of Brass Stations with red velvet ropes and a 3'x8′ red carpet.
Memory Book – A scrap booth provided by us where one print is glued in the book and your guests are asked to sign it.
Photo Booths Start at $600 for Three Hours.
PHOTO BOOTH REVIEWS
"Hello Suzan, We absolutely LOVED LOVED LOVED the photo booth setup, prints and DJ Productions Personnel! Your team is so lovely to work with. It means so much to us when we bring a vendor into our school who is wonderful when dealing directly with our students at our events. The tentative date for next year 5th Grade Picnic is June 1. We are expecting to book DJ Productions for that event! Thank you again!" Suzanne B., Pine Tree Elementary School, Monroe NY
"The photo booth was lots of fun- great service!" – Tracy Q., Confirmation Party, J.C. Fogarty's, Bronxville NY
"Great picture quality. Great experience , I requested Tiffany teal and it was the perfect color. Great overall experience.Guests had a great time." – Susan D., College Graduation Party at Catherine's, Goshen NY

"I posted on your FB page and YELP what a great job everyone did…we absolutely could not be happier with your services and would definitely recommend you to our family and friends." – Richard and Steven B-T, Wedding at The Best Western Inn At Hunts Landing, Matamoras PA (Photo Booth and DJ)

"Hi Suzan, I wanted to let you know what an amazing job Tom & Brad did at Stephanie's party. I also wanted them to know that I apologize for not telling them personally. I actually fell & broke my wrist & left the party early (bummer, yes). We will be recommending you to our friends. thanks again for a great night." – Cheryl B., Sweet 16 at First Presbyterian Church Fellowship Hall, Monroe NY (Photo Booth and DJ)

"The party was a success as was the photo booth. Tom did a great job and I would recommend you and or use you for any future parties.Thank you!" – Kathy N., Sweet 16 at the Poughkeepsie Grand Hotel

"Suzan was great with contract part, and insuring we seen proofs before the day of the party, she also made quick changes to insure my daughter was happy. Tom was a very sweet man, he did a great job, I would definitely use your services for future events! and recommend your company to family and friends." Rosaura G., Sweet 16 at Kuhl's Highland House, Middletown NY

"Just wanted to thank you and DJ productions for making our party a huge success. I will highly recommend your company." – Grace F., Sweet 16 at La Case Vicina, New Windsor NY (Photo Booth and DJ)

"Hello Suzan, I just wanted to let you know how wonderful Alisa's sweet 16 was. Your husband and son were right on time and so very professional and nice. He played everything that my daughter had asked for. She mentioned to me that when she and her friends requested a song he played it right away and she loved that. We were at my cousin's wedding a year ago and she requested a song and they never played it the whole night so she was very happy when her requested songs were played. The photo booth was a big hit. And I loved the open effect and everyone was able to join in. The kids and adults enjoyed the Co2 cannons. Thank you for getting back to me whenever I emailed you. It was a pleasure working with you and I strongly will recommend you to everyone." – Antoinette F., Sweet 16 at First Presbyterian Church Fellowship Hall, Monroe NY; DJ and Photo Booth (Photo Booth and DJ)

"Just a quick note to say thank you for an awesome night! The music was exactly what Janelle wanted and the photo booth was a hit! Great job and thank you for making Janelle's Sweet 16 a night she will never forget." – Patti G., Sweet 16 at Hickory Hill Golf Club, Warwick NY (Photo Booth and DJ)

"Suzan: The photo booth was a big hit with everyone at the party! Brad was very courteous and professional and the quality of the photo strips surpassed my expectations. Thank you for all of your assistance. You were great to work with." – Keisha M., Sweet 16 at Montgomery Senior Center, Montgomery NY

"Thank you very much for making our wedding such a success! The photo booth was a great addition and everyone raved about how much they enjoyed it. Tom was beyond wonderful! Very professional and an absolute joy. Thanks again," – Ebony W., Wedding at the Best Western Inn At Hunts Landing, Matamoras PA (Photo Booth and Full-room Uplighting)

"The photo booth was also a great hit! My guests loved it. I love that I have an album of the photo printouts with written messages from my guests. What a great memory!" – Stephanie J., Wedding at the Eagle's Nest, Bloomingburg NY (Photo Booth and DJ)

"The photo booth for our class reunion Saturday night was a huge hit! Thank you so much for adding to our event! I won't hesitate to suggest DJ Productions to others!" – Sharon K., Red Tail Lodge, Vernon NJ

"Amazing job! Everyone was telling me all night how much they loved the photo booth and Tom was awesome!" – Brittany C., Wedding at Woodloch Resort, Hawley PA

"Everything was great! Will definitely keep you in mind for any future events!! Thank you so much for making our wedding celebration perfect!!" – Krystal J., Italian-American Club, Haverstraw NY (Photo Booth and DJ)

"The DJ and photo booth were a huge success! Thank you!! Many of Danielle's friends took your company information, and Brendan is certainly your secret weapon in that respect!" – Marianne M., The Pinnacle at Somers Pointe Country Club, Somers NY
Call or Text 914.850.3263 * email [email protected]
To check availability, fill out this form: https://djpco.com/contact/