Quinceañeras, Philippine Debuts and 16th Birthday Parties for boys, too!
Happy Birthday!
Coming-of-Age parties are a once in a lifetime event and we will make sure yours is one to remember! They may be Formal, Semi-Formal or Casual.
We offer three packages:  Basic, Traditional, and the Sensational.
Basic: A simple party with no Formalities — just a "Happy Birthday" sing-along.
Traditional: Any or all of the following — Grand Entrance, Shoe and Tiara Ceremony, Parent Dance(s) and Candle Lighting Ceremony.
Super Sweet 16, Quinceañera or Philippine Debut: All include the Traditional package plus additional formalities like the Court Dance, Presentation of Gifts, Dinner Prayer, Toast, Thank You Speech, Grand Cotillion Dance and more.
Usually, the Guest of Honor is the Emcee for the Candle Lighting Ceremony, but if they are not comfortable speaking on a microphone, the Guest of Honor may designate a family member or friend. 
Our DJs have all the current dance music, along with the classics. Only radio edits are played (unless the parent or guardian approves otherwise).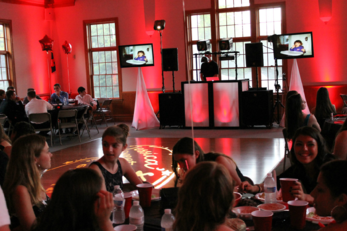 All Packages Include:
Professional High-Quality Sound System.
Wireless Microphones.
LED Lighting Effects that follow the beat of the music on the dancing area.
Lighted Booth enclosing the sound system in your choice of color; or not lighted, if you prefer.
Check our Add-Ons page for popular wedding features like our new Vintage Phone Audio Guestbook, TVs, GOBO Name Projectors, Uplights and our CO2 Handheld or Cannon which the Birthday Girls love using to cool off their guests!
We also entertain at Bar and Bat Mitzvahs.
Ask us for details as prices vary based on your needs and requirements.
We offer special prices and hours for School Dances.
Only CLEAN EDITS of songs are played at all school-related functions and content is carefully monitored. We currently are contracted by several school districts.
Call or text 914-850-3263 * email [email protected]
To check availability, fill out this form: https://djpco.com/contact/
Reviews
"You delivered as promised. Great job all the way around. So glad we chose you!" – Nancy F., Dingman Township Fire Dept.; DJ Tom and Photo Booth Attendant Steve

"I gave you all 1's (photo booth rating for excellent). You guys were fabulous. Everyone had a really good time. Thank you and I'll be sending people your way. Thanks again for making the party great!" – Annamae K., Salisbury Mills Fire Dept.; DJ Rich and Photo Booth Attendant Steve

"Suzan and Tom, thank you both for making Jean Marie's Sweet 16 so awesome! Everyone had a great time and Jean was thrilled with DJ Tom.
Suzan you were an absolute delight to work with. Thank you. I have recommended you to a few people and will recommend you to many more! Please give me your facebook info so I can share it." – Angel K., Memorial Building, Beacon NY; DJ Tom

"The services were great. We do not have any complaints. The DJ was great, accomodating, courteous and pleasant, as well at the Photo Booth Attendant. I hope to be using you again in the near future. I have guests that were interested in your company — I have given out your information for them to contact you. It was so nice working with you (Suzan), you made it so easy for me with the crazy month I had. I appreciate you being patient and so helpful with me and helping my daughter with the montage. I hope to meet you in the future." Gioia M., Sweet 16 at First Presbyterian Church Fellowship Hall, Monroe NY; DJ Tom and Photo Booth Attendant Jon

"You were #1 across the board. Thank You for making my daughter's special day a great one." Rob F., Sweet 16 at Sheraton Crossroads, Mahwah NJ; DJs Jon and Brendan

"Hi Suzan. I wanted to let you know what an amazing job Tom & Brad did at Stephanie's Party. We will be recommending you to our friends. Thanks again for a great night." – Cheryl B., First Presbyterian Church of Monroe, NY; DJ Tom and Photo Booth Attendant Brad

"I can't sing the praises of DJ Productions loud enough!! From the moment I spoke to Suzan I knew I was in wonderful hands! She is a doll!!! DJ Tom was Amazing!!! 60 teenagers and 50 adults partied all night long!! I Highly recommend the Photobooth!! Suzan customized the photo strip to be perfect for my daughters theme! Everyone had a blast being silly and making memories to last a lifetime in the Photobooth! I'm in LOVE with DJ Productions!!! I'll post pictures from the party soon! Thank you Suzan!" – Heather S., Shadowbrook Catering, Wappingers Falls NY; DJ Tom and Photo Booth Attendant Brad

"Hi Suzan, Thank you for the outstanding evening you provided us with, everything was perfect." – Andrew C., Sweet 16 at Pocono Woodlands Lakes Clubhouse, Milford PA; DJ Tom

"Just wanted to thank you and DJ Productions for making our party a huge success. I will highly recommend your company." Grazia F., Sweet 16, La Casa Vicina, New Windsor NY; DJ Tom and Photo Booth Attendant Steve

"Suzan, I have to tell you how amazing the party was, thanks to your DJ and Photo Booth men. They did an outstanding job and really made the party a huge success. Thank you so much." – Andrea C., 13th Birthday Party, Mid-County Rod & Gun Club, Lagrangeville NY; DJ Tom and Photo Booth Attendant Jon

"Hello Suzan. I just wanted to let you know how wonderful Alisa's sweet 16 was. Your husband and son were right on time and so very professional and nice. He played everything that my daughter had asked for. She mentioned to me that when she and her friends requested a song he played it right away and she loved that. We were at my cousin's wedding a year ago and she requested a song and they never played it the whole night, so she was very happy when her requested songs were played. The photo booth was a big hit. And I loved the open effect and everyone was able to join in. The kids and adults enjoyed the Co2 cannons. Thank you for getting back to me whenever I emailed you. It was a pleasure working with you and I strongly will recommend you to everyone." Antoinette F., First Presbyterian Church, Monroe NY; DJ Tom and Photo Booth Attendant Jon

"Good Morning Suzan. Just wanted to let you know how wonderful Jon and Brendan were!! We had an awesome party…. Everything was perfect! Everyone is talking about how amazing the DJs were…. The room looked awesome with the uplights!! The GOBO looked great and the Co2 Cannon was a huge hit!!! Kids were tweeting about that and I saw one that said they felt like they were at an EDM concert!! It was a pleasure working with you!! I appreciate all of your advice and thank you for always getting right back to me if I had a question. I will be sure to pass the cards around and I'm sure you will get future bookings after this party!! We can't wait to get the disc with the pictures….. Jon took some great photos!! Thanks again for everything!! The Rallo's – First Presbyterian Church, Monroe NY; DJs Brendan and Jon

"Working with DJ Productions was a pleasure. Suzan was extremely helpful in planning our event and offering suggestions. On the day of the party, Tom and Brendan arrived early to advise best placement of equipment. Both gentlemen were very professional and flexible with timing the various ceremonies and dances. Photo booth was very entertaining and a hit with guests of all ages. Would highly recommend DJ Productions to anyone looking for quality service at a competitive price. " – Patti M., Weathervane Clubhouse, Washingtonville NY; DJ Brendan and Photo Booth with Tom

"The DJ and photo booth were a huge success! Thank you!! Many of Danielle's friends took your company information, and Brendan is certainly your secret weapon in that respect!" – Marianne M., The Pinnacle at Somers Pointe Country Club, Somers NY; DJ Brendan and Photo Booth with Jon

"Suzan, we were extremely satisfied with the services you provided for our daughter's sweet sixteen party. DJ Rich and Grace were there early to set up and make sure everything was in working order. Everyone was up dancing all night and could not say enough about the music. We also were very impressed with the "zap shots" that we decided to do. The photos were put up on the tv almost immediately so our guests were able to see them right away. We would definitely recommend you to anyone who is looking for a professional DJ service. Thanks again." – Lisa & Heath R., Anthony's Catering, Hopewell Junction NY; DJ Rich

"Suzan, we had a wonderful Sweet 16 for our daughter, Mary, and the music made all the difference! The dance floor was full and whenever a new song started that they really liked, you could hear a "wooooo" from the teens! Dalen was very professional and was there early to set up for the party, and the lights looked great. Thank you so much – I'm so glad we discovered you guys!!" – Jeanne E., Sinapi's Ceola Manor, Jefferson Valley NY; DJ Dalen

"Hey Suzan- Thank you so, so much to you & Joe & Joe ! I didn't expect them til 5:00 so almost had a heart attack when they showed up early to set up. Wow- that was a bonus. Everything was perfect!! Professional!! Fun!! Poor DJs were probably bored to tears but the entire crowd had a blast! The Joe's even coordinated dinner & dessert down time. Use me for referrals anytime." – Nancy W.; American Legion, Milford PA; DJ Joey & Assistant DJ Joe

"Suzan, Good morning. I just wanted to send a note that Tom was a gentleman and the party was a success using DJ Productions' services. Definitely will use and recommend your services in the future. Sincerely, Richard" – Richard P.; Panther Valley Country Club, Allamuchy NJ; DJ Tom

"Hi Suzan, Just wanted to let you know that Jay did a fantastic job last night! He was there early with everything set up when I got there. He had everyone in the party up and dancing all night. I was amazed that about 80% of the party was dancing. The match was just perfect for our party because everyone was was dancing until Farmstead kicked us out. He played a variety that kept everyone involved. I would highly recommend Jay for your other clients! Thanks Again." – Ken C; Farmstead Country Club, Andover NJ; DJ Jay

"My daughter had a great time. Thought the DJ was very good!" – Selene C., American Legion, Warwick NY; DJs Jon & Brendan

"I was extremely satisfied with DJ Productions and the work they did for my daughter's Sweet 16 party. Despite the remnants of the biggest snowstorm of the season, the DJs arrived in plenty of time to set up and music was playing when the first guests arrived. The video screen was a big plus, and the kids really enjoyed seeing themselves up there while they were dancing. Jonathan and Brendan were able to keep 76 teenagers happy and dancing all night… that was a major accomplishment all by itself." – Lynda P., Minuteman Restaurant, New Windsor NY; DJs Jon & Brendan

"Hi Suzan: My daughter didn't care where we had her Sweet 16, nor what kind of food we had. Her ONLY concern was the entertainment. The DJ's were awesome, professional and were a HUGE hit at the party which made it a success! We thank you so much and would not hesitate to refer you or call on you again! Thanks!" – Christine M., American Legion, Milford PA; DJs Tom & Jon

"We had our daughter's Sweet 16 party with DJ Productions… and rate you as excellent in every area. I overheard comments from the kids like 'the DJ rocks,' and our daughter reported that everyone told her 'what a great party!' Thanks to you, it was a success and I highly recommend DJ Productions for any occasion. We've used DJ Productions in the past for our recreation parties and they were reliable, affordable and very good people to work with." – Merrilou T., Denton Presbyterian Church Fellowship Hall, New Hampton NY; DJs Tom & Jon

"I was so happy that he worked with the kids and their music picks. It made it a very personal party. I'm so happy that we are using them again this year." – Theresa R., Pocono Woodland Lakes Clubhouse, Milford PA; DJ Ed & Assistant DJ Jacob
Call or Text: 914.850.3263 * email: [email protected]
To check availability, fill out this form: https://djpco.com/contact/