The Perfect DJ for Your Wedding!
At DJ Productions, we do not discriminate. Whether it be Opposite- or Same-sex, or any members of the LGBTQ+ community, we are honored to be a part of your special day.
We work very closely with you making your wedding one to remember! Ceremonies are performed with music and sound… Cocktail Hour sets a festive tone… The Grand Entrance is handled with style… Your Reception will be the best party ever — from the First Dance to the Last Song! 
We make sure YOU are the center of attention, not us. Your dance floor will be packed because our DJs know exactly what to mix… according to YOUR requests, tastes and style — not ours.  You may give us an unlimited number of requests and we even encourage you to provide a "Do Not Play" list. We gladly accept your personal Spotify lists, too. We just ask that you allow the DJ to use their expertise on when to mix in the songs. Volume is controlled according to your preference — especially while the main meal is served. 
Upon booking with us, we provide you with planning forms to ensure we do exactly what you want. Our music library is constantly growing — from classics to current hits, and cultural music, like all forms of Latin and Bollywood.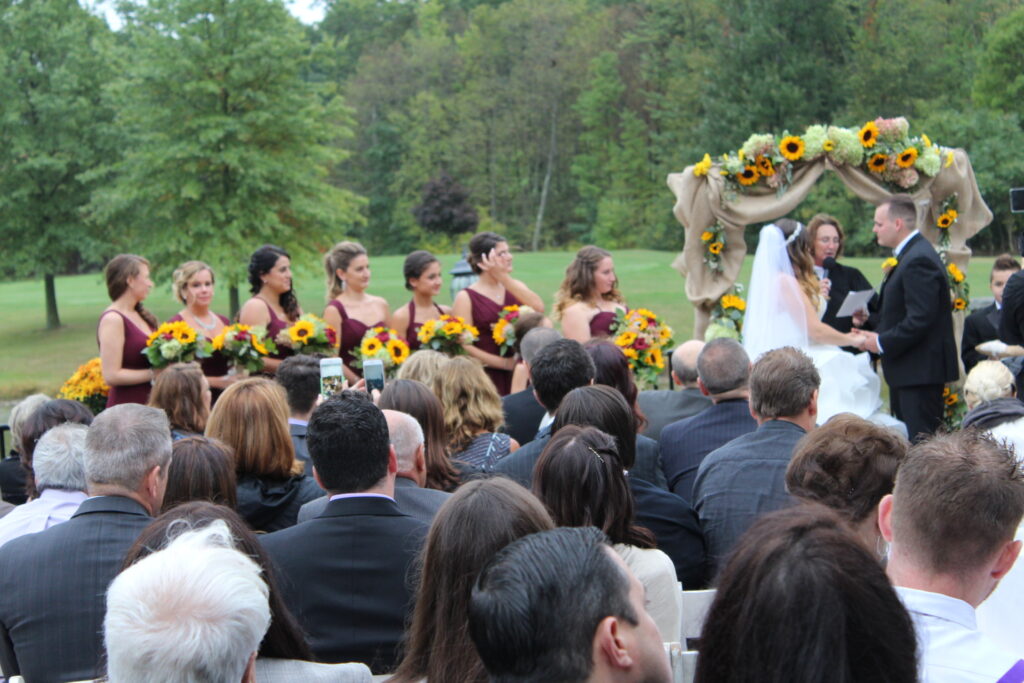 ALL WEDDINGS INCLUDE:

Ceremony (If needed)
Sound System with wireless microphone and your choice of music for all segments…
a) Prelude
b) Processional
c) Additional Segments (Sand Pouring, Unity Candle, Memory Candle, etc.)
d) Recessional
Off-site Ceremonies are available for an additional fee.
Cocktail Hour (If needed)
Sound system and your choice of music or you may leave it up to the DJ.
Four-Hour Reception
Professional Sound System.
Wireless Microphones for toasts, speeches and announcements. We can also provide a microphone stand or a boom stand is someone would like to perform or sing a special song for the couple.
LED Lighting Effects — Professional DJ lights that project onto the dance floor and follow the beat of the music.
Lighted DJ Booth enclosing the sound system in your choice of color; or not lighted, if you prefer.
Weddings start at $1,300 for four hours.
All packages are for a Single DJ/MC. If a DJ and a separate MC are desired, an additional fee applies.
Check our Add-Ons page for popular wedding features like our new Vintage Phone Audio Guestbook, TVs, GOBO Name Projectors, Uplights and our CO2 Handheld or Cannon which Brides and Grooms love using to cool off their guests!
Call or Text 914.850.3263 * email [email protected]
To check availability, fill out this form: https://djpco.com/contact/
Wedding DJ Reviews
"On behalf of Adam and I, we would like to say thank you for making our reception a memorable event. Your team is phenomenal and world class. We received many, many compliments about Terry and Louis' professionalism and their ability to energize the crowd. The photo booth was a hit as well. Again, thank you from Adam and myself and please know that we will recommend you without reservation to any friend and family member." – Adam & Shawn, West Point Club; DJs Terry and Lou and Photo Booth Attendant Brad
"Music selection was great and followed our preferences as requested. Great mix of downtime music during dinner and dance hits to get everyone on the dance floor. Gabby was friendly and everyone loved the photo booth. Tom was great and said just the right things to get everyone moving and excited." – Jennifer & Ernest, Anthony's Pier 9; DJ Tom and Photo Booth Attendant Gabby
"Dearest Tom and Suzan, We would like to express our gratitude for making our day so special! Tom, you were right in 'tune' with our party! We could not have wished for a better DJ! So many compliments were given to us, in your professional manner! You 'Made our Dreams Come True…' 'Thank you' All the Best to you Both!" <3 Melinda and Andy, Mountainville Manor; DJ Tom and Photo Booth Attendant Jessica

"We had DJ Productions at our wedding and couldn't be happier. Suzan was easy to work with over the phone and receptive to my ideas. Her husband, Tom, was the DJ at our wedding and their son headed our photo booth. Everything went smoothly thanks to them. We love our photo booth keepsake album! Thank you so much DJ Productions, we would recommend you to anyone looking for a quality DJ service!" Marsha & Jon, Woodloch Resort; DJ Tom and Photo Booth Attendant Jon
"Hey Suzan. I just wanted to thank you and your husband for a fantastic job at my daughters wedding on Friday June 1st. He played a great mix of music – the dance floor was packed the entire night. His announcements were also excellent. I really appreciate how friendly and accommodating you were on the phone with me and my daughter. It was one less thing for us to worry about. The photo booth was also fabulous… everyone loved it and we were especially glad that my daughter was given a flash drive with all of the pictures from the photo booth… I would gladly recommend your company to anyone. Thanks again and take care, Mary G. (mother of the Bride) – Sam & Steven, Anthony's Pier 9; DJ Tom and Photo Booth Attendant Steve
"Thank you all for a perfect evening. Everything was perfect. God bless." – Veronica & Nathan, Best Western Inn at Hunts Landing; DJ Tom
"They did an awesome job! Would recommend them to anyone needing a DJ. Great job!" – Vickie & Dan, Best Western Inn At Hunts Landing; DJ Tom and Photo Booth Attendant Jon

"Tom was wonderful! He worked very well with my photographer and was more than reasonable! I did not want the night to end. He was able to read the crowd and play what they liked :)" – Bekah & Joe, The Fountains At Wallkill Golf Club; DJ Tom and Assistant DJ Jon

"Tom and Suzan, Thank you so much for making our wedding so much fun. We had a great time and could have danced all night. I am not sure if Tom was aware, but everyone was having such a great time that my father tried to extend the reception. Unfortunately, music has to be off by 11 p.m. at Winding Hills Golf Course due to an ordinance. The photos you took were great and it was so nice to get them that night. Suzan, it was great working with you and always a pleasure speaking to you. I have recommended you to a friend who is getting married. Thank you again." – Karen & Tom, Winding Hills Golf Club; DJ Tom

"Tom and Suzan were great, professional, and accessible for last minute changes. The start to our ceremony was delayed 40 minutes because my brother was late coming home from serving in Honduras, and Tom kept the guests informed and entertained. Three months later I'm still hearing comments from my 30 something year old friends of how much fun they had and my 70 something year old aunts (judgemental aunts may I add) saying that our wedding was the best and most fun wedding they have ever attended. We live about 3+ hours from where we got married and being able to contact Suzan and Tom via email was very helpful. I would highly recommend DJ Productions to anyone looking to have a great time!" – Colleen & Jeremy, Woodloch Springs Resort; DJ Tom

"Tom and Suzan were absolutely amazing!!! I had to do everything over the phone since I live in Florida and had my wedding reception in PA. We also rented the LED up-lights that they offer and they looked great. She went out of her way to visit the venue and figure out how many we would need to create the effect I was looking for then …she took pictures of all of the different color options and emailed them to me so I could figure out what color I wanted. Tom was awesome at the wedding…the music was great and he kept everyone on the dance floor all night which was exactly what I wanted. Everyone at the wedding was impressed with DJ Productions and everyone LOVED the TV Screens with the photos of the wedding on them. I would highly recommend working with them, they don't push you to do anything you don't want (no sleazy sales tactics) and they work with you every step of the way." – Kelly & Keith, Best Western Inn At Hunts Landing; DJ Tom and Assistant Jon

"DJ Productions were the perfect fit for my wedding! They had the whole place up and dancing even before dinner!! I could not ask for a better DJ. they worked well with me to find out what kind of music i wanted at my wedding and played everything just how I asked for it. Price was great and the DJ was awesome. Would use them again in the future!!! Thank you DJ Productions for making my wedding special!" – Cristin & Bobby, Best Western Inn At Hunts Landing; DJs Tom and Jon

"My Guests LOVED the video screen that flashed pictures of them during the reception. It was fabulous. I have been telling all my friends and giving out your email address and other contact information. Thank you all for making our wedding day so very, very special!" – Connie & Joel, Poughkeepsie Grand Hotel; DJs Tom and Jon

"Thank you for your professionalism and hard work in making our wedding so special. Your willingness to play the music we wanted was refreshing. So many DJs we interviewed wanted to make themselves the centerpiece of the reception. You were confident and professional enough to allow the guests to be center stage. Thank you for making our reception into an incredible party that we will always remember." – Caroline & Jody, Bear Mountain Inn; DJ Tom

"Our friends are still talking about how much fun they had. It was great that Tom started the party as soon as possible instead of people just sitting around. He played a good mixture of music for our crowd. We would highly recommend Tom. Thanks so much! Sue, thanks for all your help with the preparations. The music was one thing we didn't worry about!" – Jennifer & Robbie, Riverview Inn; DJ Tom

"Hi Suzan, I want to quickly thank you and Tom for doing a great job with the reception. Many guests commented on how much they enjoyed the music, as was evident by the continual dancing (even through dinner, it was great!). Thanks Again!" – Chelsey & Andrew, The Rhinecliff Hotel; DJ Tom

"Thank You! We had a wonderful time. The guests were very happy and he kept us dancing." – Heather & Will, Anthony's Pier 9; DJ Tom

"We had a great wedding. Our DJ played whatever we wanted. He made a wonderful mix. We're glad we chose DJ Productions and we can recommend them to everyone." – Dilek & David, Eagle's Nest; DJ Tom

"Suzan and Tom: It was such a pleasure dealing with both of you. Your advance questionnaire and lists of suggestions were so helpful and thorough. Tom really got the party jumping and the couples cuddling with a great mix of fast and slow songs. The guests really enjoyed your giveaways, too!" – Pat, Club 211; DJ Tom

"Not only did Tom meet our requests, but exceeded our expectations tenfold. It was important to my husband and I that our guests felt included. DJ Productions made that happen. They made our special day more memorable. If you want a Disc Jockey who goes over and beyond to meet your needs, DJ Productions is our number #1 choice. We strongly recommend their services to all. Dear Suzan, Again we would just like to thank you for all your help. We truly appreciated your advice. Tom, Thank you for services and being able to adapt to changes made during the reception." – Lisa & Mark, Meadowbrook Lodge; DJ Tom

"… Suzan, thank you so much for handling all the details (last minute!… sorry), for answering all our questions and helping us (especially) finding the title of our wedding song. Tom, thank you for doing such a great job in getting everyone dancing. Everyone truly enjoyed themselves so much that many were still talking about our wedding weeks later. Thank you also for checking with us periodically just to make sure everything was okay. We really appreciated that. One other detail that we didn't expect is when you went into the kitchen to have someone bring our dinners out. We were so busy mingling with guests that they took our food away because it was getting cold. We'll always remember that. We would definitely recommend you to anyone who asks. Thank you so much." – Elisa & Glenn, Brookside Manor; DJ Tom

"Tom was wonderful and helped make our day special! DJ Productions is so great in finding music and helping out with any special details! Thanks so much for everything! Suzan – Thanks so much for everything and all your help — the wedding was absolutely great!" – Marcie & Mark, Anthony's Pier 9; DJ Tom

"We would like to thank you for making our special day go smooth and with no problems. Thank you." – Lisa & Mario, Brookside Manor; DJ Tom
Call or Text 914.850.3263 * email [email protected]
To check availability, fill out this form: https://djpco.com/contact/